Are you in search of an innovative tool for creating captivating presentations? AI-powered presentation tools such as Slides AI and Gamma AI have revolutionized how we make and deliver presentations. In this article, we'll dive deep into this world of presentation software and discover their differences compared to each other.
Similarities Between Slides AI and Gamma AI
Before we explore the differences, let's take a moment to appreciate the similarities between these two AI-powered presentation tools:
AI-Powered Presentation Tools: Slides AI and Gamma AI are AI-powered presentation tools designed to assist users in crafting stunning presentations using artificial intelligence.
Template Variety: No matter your presentation needs – whether that be a professional business presentation or creative project pitch – these tools offer templates and designs specifically tailored to meet them.
Analytics and Sharing:  Both Slides AI and Gamma AI feature advanced analytics features to allow you to track the success of your presentations, as well as easily sharing them with colleagues for collaboration purposes.
Now, let's dive into the intriguing differences that set these two platforms apart.
Also Read : What is Gamma AI?
Slides AI and Gamma AI: Key Differences
Ratings
Gamma AI: This presentation tool boasts an impressive rating of 5/5 stars, indicating a high level of user satisfaction.
Slides AI: While Slides AI is highly regarded with a rating of 4.5/5 stars, it falls just short of Gamma AI in terms of user ratings.
Presentation Styles
Gamma AI: Presentations created with Gamma AI are known for their resemblance to Tome. They offer a unique and appealing look and feel that deviates from the traditional slide formats of Slides AI.
Slides AI: Slides AI, on the other hand, is designed as a plugin for Google Slides, seamlessly integrating with this popular platform. It retains a more traditional approach to slide design.
User Interface
Gamma AI: This innovative tool utilizes an AI interface that operates similarly to ChatGPT. It generates presentations based on questions and prompts provided by the user, making the process efficient and intuitive.
Slides AI: Slides AI requires longer text input for optimal results, offering a different approach compared to the chat-like interface of Gamma AI.
Target Audience:
Gamma AI: This presentation tool is tailored for professional users. It offers business-oriented templates, making it an ideal choice for professionals and organizations.
Slides AI: Slides AI has a broader appeal, catering to a wider range of users beyond just professionals.
Main Features of Slides AI and Gamma AI
Let's take a closer look at the primary features of Slides AI and Gamma AI:
Slides AI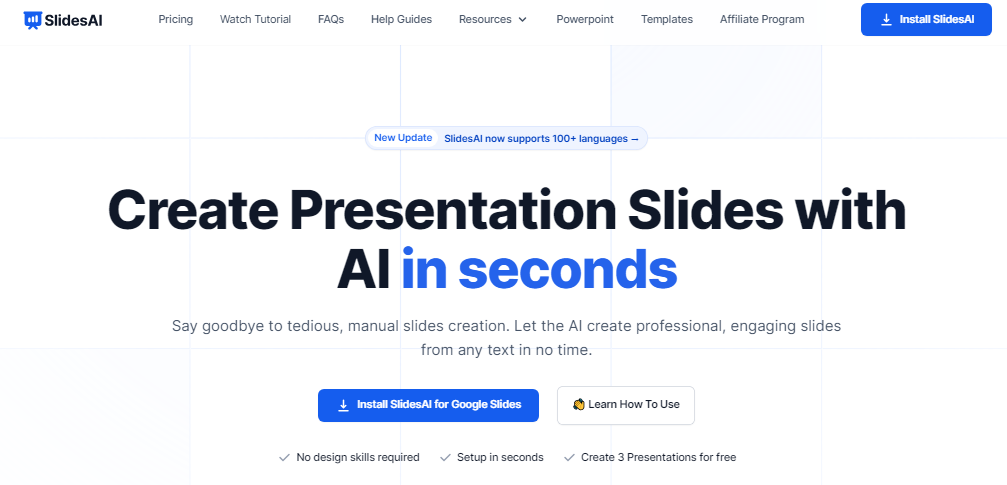 Slides AI is an AI-powered tool that excels in simplifying the creation of visually appealing presentations. Here are its main features:
Efficient Presentation Creation: Slides AI allows users to create presentation slides quickly and easily.
Text-to-Slide Transformation: It can summarize and transform text into visually captivating slides, saving you time and effort.
Template Variety: Offers a wide variety of presentation types and provides image recommendations based on the content.
Google Slides Integration: Can be seamlessly integrated with Google Slides and is available as a productivity software for Google Workspace.
Templates and Designs: Provides a diverse selection of templates and designs to choose from, ensuring your presentations look polished and professional.
Analytics and Sharing: Users can track the performance of their presentations and easily share their work with others. It has a user rating of 4.5/5 stars, showcasing its reliability and quality.
Gamma AI
Gamma AI, on the other hand, is known for its unique approach to presentation creation. Here are its standout features:
Simplified Content Creation: Gamma AI simplifies the process of creating and delivering content with minimal formatting and design work.
AI-Powered Generation: It generates presentations based on questions and prompts provided by users in a ChatGPT-like interface, streamlining the creative process.
Customization: Offers customizable templates and no-code editing options, allowing users to tailor their presentations to specific needs.
Media Integration: Users can easily embed a variety of media formats, including GIFs, videos, websites, and charts, enhancing the visual appeal of presentations.
Collaboration and Feedback: Gamma AI promotes collaboration and feedback with features like quick reactions, comments, and publishing and analytics tools.
User Satisfaction: With a remarkable user rating of 5/5 stars, Gamma AI has gained a strong reputation in the presentation software market.
FAQs
Can I use Slides AI and Gamma AI for personal projects?

Yes, both tools are suitable for personal use, but Gamma AI is more business-oriented.
Do I need to have design skills to use these tools?

No, both Slides AI and Gamma AI simplify the design process, making it accessible to users without design expertise.
Which tool is more user-friendly for creating presentations?

Gamma AI's chat-like interface makes it incredibly user-friendly, while Slides AI may require more text input.
Can I collaborate with others using these tools?

Yes, both tools offer collaboration features, but Gamma AI has more extensive collaboration options.
What types of templates are available with Slides AI and Gamma AI?

Slides AI offers a wide range of templates, while Gamma AI focuses on business-oriented templates such as "Company Fact Sheet," "Sales Presentation," and "Deal Review."
Are there any notable media formats supported by Gamma AI?

Yes, Gamma AI allows users to embed various media formats, including GIFs, videos, websites, and charts.
Conclusion
Slides AI and Gamma AI both present distinct approaches for creating engaging presentations using AI technology. While their similarities make for easy comparison, their differences help set them apart to better serve specific audiences – for instance, Slides AI integrates seamlessly with Google Slides while Gamma AI's chat-like interface and customization features make content creation much faster and simpler.
No matter if you are an executive searching for business templates or an amateur wanting a simple yet intuitive presentation creation platform, both Slides AI and Gamma AI offer specific solutions to meet your objectives and unleash creativity within presentations. Pick one and explore!