Here, I will briefly show you how to create a template in Google Docs in just few minutes.
Making the same type of files can be time consuming so if you find yourself doing the same then simple create a template and save plenty of time.
You can easily create custom Google Docs template with your address, logo with fonts and your favourite colours as well.
Making brochures, resumes, newsletter and much more can be done with not much effort.
Other than that, you can create your own template by adding signatures to an agreement or importing flowcharts, spreadsheets etc.
Although you will already find a wide range of template inside Google Doc, but we cannot expect them to work for everyone.
That is the reason we are going to guide you on how to make a template in Google Docs.
Read Also: How to Create a Fillable form in Google Docs?
Here are the steps you need to follow –
Steps to Create a Template in Google Docs
Step 1
First open the Google Doc and click on File>New>From Template.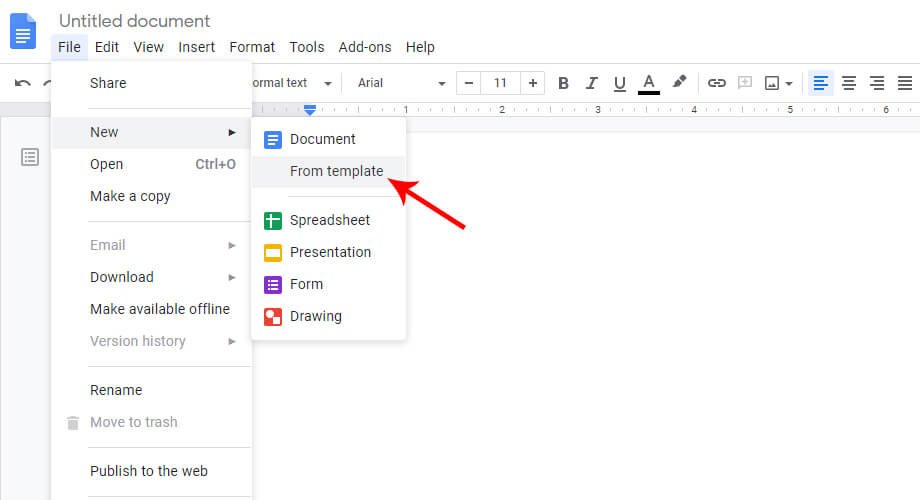 Step 2
In the next scree, you will find few ready-made Google docs templates for Resume, Letter, Project Proposal, Brochure, Sales Quotes, etc…
Select any of these if they meet your design requirement or else click on Blank template to design a custom template in Google Docs.
Step 3
Now, you can add company logo, address, and other require details to your template as per your wish by using available options in the main navigation.
Once you done with the template design, save it and you are ready to use that custom template from anywhere, anytime.
Wrapping it up…
A number of times we find our self doing the same monotonous work on repeat when we can change that easily.
Specially when working with office documents, there are a number of similar things that you might have to send to different clients.
So, the best option in this case is to create your own template and make your work a tad easier.
Hope you guys found this quick "how to create a template in google docs" guide useful. If yes, then don't forget to share with others on social media.